Top 7 Benefits of Retiring to Myrtle Beach
It's finally time to retire and move somewhere warmer. You've thought about Florida, but you're not really attracted to the hot and sticky summers that become almost unbearable. You've considered somewhere southwest, but it's just not the right fit for you.
Maybe Myrtle Beach is your great compromise and provides the perfect choice. Beautiful beaches, plenty of things to do, and a great climate filled with sunshine and bearable temperatures most of the year might be just what you're looking for. Here are seven of the top benefits you'll gain if you retire to Myrtle Beach.
Climate
One of the major drivers of the decision to retire to a specific location is the climate. Myrtle Beach gets more than 200 sunny days per year and the average temperature is about 74 degrees. The winter isn't quite as warm, but average temperatures still float between 55 and 60 degrees, so no more shoveling snow.
Plenty of Golf
If you're hoping for a great destination for golf, Myrtle Beach should be tops on the list. With more than 100 golf courses in the area, Myrtle Beach is known as one of the major Golf Capitals in the world.
All the golf courses are open year-round and you can even enjoy 30 mini golf courses. Myrtle Beach also attracts several golf tournaments throughout the year you can attend.
Affordability
The cost of living in Myrtle Beach is lower than many other top retirement destinations. It's lower than the US average for housing and transportation, as well. The lower cost of living can be a huge benefit for those retiring to the area.
The Beaches
Of course, the beaches are a huge draw for retirees and a major benefit. The Grand Strand is found here and provides 60 miles of beaches through Myrtle Beach. There are plenty of choices and the beaches are beautiful here.
Easy Travel
Retirees often want to have a home base and do some traveling. Myrtle Beach provides an airport with services including Delta, United, and American Airlines. They also have regional options, such as Porter, Spirit, and Allegiant. It's easy to travel from Myrtle Beach by airplane or by car.
Plenty of Activities & Events
Myrtle Beach offers plenty of activities for retirees to enjoy including tennis, biking, golf, and more. There are plenty of things to do all throughout the area.
The annual events include plenty of great options, such as the Blue Crab Festival and Oktoberfest. There are several concert series throughout the summer and plenty of holiday events every year, as well.
Shopping & Dining
With plenty of shopping throughout the area including the Tanger Outlets and Coastal Grand Mall, you'll never have to worry. Myrtle Beach also offers incredible dining with restaurants ranging from casual to fine dining all throughout the area.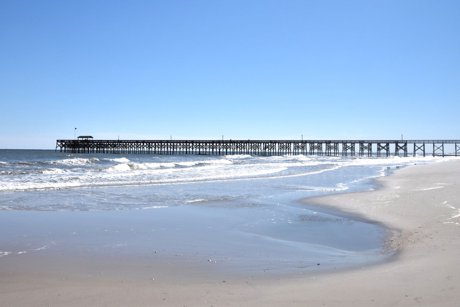 Myrtle Beach offers plenty of great benefits for those looking to retire. Unlike Florida and Arizona, you don't have to escape the heat of summer to head back north. Sure, it's warmer in the summer, but most retirees find it bearable enough to stay year-round.
Start your search here: