Garden Lakes Mobile Home Community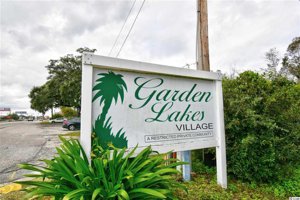 A mobile home community with some of the best mobile home options in the area, Garden Lakes offers plenty of choices. It's found about one mile from Garden City Beach and residents literally drive a golf cart to the beach. Since the location is so close to the beach, it's a very popular choice for those looking for affordable living near Myrtle Beach.
The location is found just off Highway 17, giving residents easy access to everything the area has to offer. It's not far from top area attractions, shopping, and dining.
Real Estate in Garden Lakes
The Garden Lakes community features many mobile homes with some smaller and some larger. They range in size from about 1,200 square feet up to about 1,600 square feet. Many come with two or three bedrooms and some are newer, while others are not quite as new.
Since this is a mobile home community, it's much more affordable than many other communities in the area. Most of the homes are traditional mobile homes with some double-wide options. They are set on a foundation of brick/masonry or a crawl space. Prices range from around $70K to more than $150K. It's also possible to find a mobile home in this community with lake views.
Things to do in Garden Lakes
With the beach about one mile away, many of the top things to do in the area revolve around the beach. The community is also found very close to the Indian Wells Golf Club and other area golf courses. The Pier At Garden City is found nearby and plenty of restaurants, shopping and nightlife aren't far away, either.
This prime location makes it possible for residents to enjoy everything Myrtle Beach has to offer. It's found very close to the city and residents can easily enjoy driving right into Myrtle Beach.
Tupelo Bay Golf Center is found nearby, along with the Nostalgia City Museum and Wild Water & Wheels. These attractions and plenty more are just minutes from the Garden Lakes community.
Living in Garden Lakes
Choosing to call Garden Lakes homes means you'll be close enough to the beach to easily get there as often as you'd like. Some residents even take their golf cart to the beach because it's just that close. Along with the many things to do, this is one of the most affordable communities close to the beach in the area. It's filled with wonderful mobile homes you can enjoy in a location giving you great access to the Myrtle Beach area.
No current listings, please check back later.