Hamilton Estates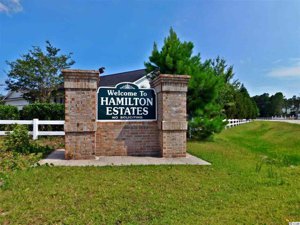 Found in Murrells Inlet, Hamilton Estates is an affordable community that was developed in 2005. The community has plenty to offer including a great location for those looking to enjoy access to the best Myrtle Beach has to offer. The community is located off Highway 17 and McDowell Shortcut Road.
It's a well-established community with some amenities. However, the location and affordability are the main reasons residents choose to call Hamilton Estates home. It's popular with those looking to go from renting to owning and those relocating from outside the area.
Real Estate in Hamilton Estates
The homes in Hamilton Estates are mainly two and three bedroom options with an average price of around $150K. First-time home buyers will love this neighborhood due to the price and it's a good choice for younger families, too.
Most of the homes were built between 2002 and 2006. They range in size from about 1,200 to 1,750 square feet with plenty of options throughout. There are several different styles and most of the homes are situations on quarter-acre lots.
Things to do in Hamilton Estates
While this community doesn't offer much for amenities, it does have a large pond within the community. There isn't a clubhouse or a swimming pool, however. The HOA fees are very low due to the lack of amenities, however, and there are still plenty of things to do nearby.
The community is located very close to the Indigo Creek Golf Course and many other good golf courses within the area. It's also close to the Marshwalk and Garden City Beach. Residents have plenty of things to do and attractions just a short drive away including dining, shopping and plenty of entertainment.
The Inlet Square Mall is found just a few minutes away for shopping. In addition, residents can enjoy plenty of water activities all throughout the area.
Myrtle Beach isn't far from Hamilton Estates, either. Residents can easily drive to the area and enjoy everything the city has to offer.
Living in Hamilton Estates
Choosing to call Hamilton Estates home will provide an affordable place to get your start. Whether you're relocating from outside of Myrtle Beach or you're looking to go from renter to owner, this may be the right community for you. It's a prime location with plenty to offer nearby and the homes are relatively new. In addition, Hamilton Estates is one of the more affordable options found near Myrtle Beach.
No current listings, please check back later.