Indigo Creek Homes
A golf course community offering plenty to get residents excited, Indigo Creek provides a great location. This community is found near some of the best things to do in the area and offers easy access to Garden City and Myrtle Beach. It's found near Highway 17, which makes it easy for residents to get to the best places to see and things to do.
The location is also just a short drive from the beach and close to many other golf courses. Those looking to live in a golf course community offering one of the best locations near Myrtle Beach should start their search in Indigo Creek.
Real Estate in Indigo Creek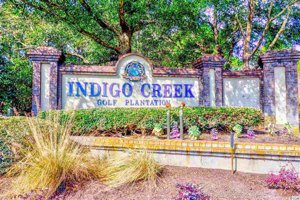 The homes throughout Indigo Creek are less than 20 years old with many upgrades and several floor plans. They range from two to five bedrooms with some providing just over 1,000 square feet and others providing more than 4,500 square feet. There's a wide variety of options throughout the community.
Since Indigo Creek offers two bedroom homes, it can be a good choice for individuals or retirees looking for a smaller home. Of course, there's something for just about all buyers considering the homes go up to five bedrooms and include everything in between.
Most of the homes include three or four bedrooms and range from 1,800 to 2,400 square feet. They typically come in between $220K and $300K. The styles include ranch or traditional with siding, brick or both. Larger lots are common throughout this community, as well. Some homes even provide golf course views.
Things to do in Indigo Creek
Indigo Creek offers a community swimming pool and a golf course for residents to enjoy. While the community has its' own golf course, there are several others nearby including International Club of Myrtle Beach, Tupelo Bay Golf Center and Blackmoor Golf Club.
The community is also found just a short distance from the beach. Residents enjoy easy access to Huntington Beach State Park, Brookgreen Gardens, and the Murrells Inlet MarshWalk. Plenty of dining and shopping options are also found nearby. In addition, Myrtle Beach is just a short drive away and offers plenty of things to do.
Living in Indigo Creek
Choosing to call Indigo Creek home means you'll be able to enjoy the beauty of a golf community. This community is located close to many of the best things to do and it's a well-established community. Since the homes range from two bedrooms to five bedrooms, there's something for just about any home buyer here.