Indigo Fields in Murrells Inlet
The community known as Indigo Fields is a smaller community found off McDowell Shortcut. It's located in Murrells Inlet and offers a location close to many great things to do, places to go and dining options. The community is well-kept and provides plenty of natural beauty throughout.
Indigo Fields is found in one of the more desirable locations in Murrells Inlet. It's surrounded by the communities of Summerall Lakes, Southborough, and Highlands at International Club. Myrtle Beach is just a short drive away and the location found off Highway 17 makes it easy for residents to enjoy the surrounding area.
Real Estate in Indigo Fields
This small single-family community offers homes ranging from 3 to five bedrooms. Most are ranch style with some traditional style and two-story homes throughout. Just about any size family will find a home fitting their needs in Indigo Fields.
The homes feature an open-concept design with walk-in closets, two-car garages, and many upgraded features. Yards are a bit larger here and it's not uncommon to find properties with long driveways.
Most of the homes were built within the past ten years. It's common to find bungalows and two-story homes here with shuttered windows and gabled roofs. While these are newer homes, they embrace a bit of a classic style.
Things to do in Indigo Fields
Indigo Fields may not be built on a golf course, but it's close to many great choices. One of the best options is the International Club of Myrtle Beach would just a short drive away. The community is also very close to the Indian Wells Golf Course. More than 80 golf courses are found along the Grand Strand, with many found within minutes of this community.
In addition to the golf courses, the community is found just minutes from the beach and from some of the best restaurants in Murrells Inlet. Shopping is found nearby and plenty of nightlife is also found within driving distance. Garden City is also close to this community and offers plenty of excellent restaurants to enjoy.
Living in Indigo Fields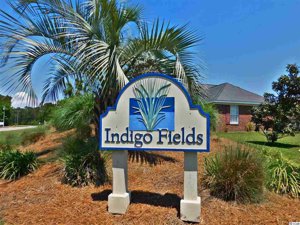 Choosing to call Indigo Fields home means you'll live in a quiet and beautiful community with a variety of home sizes. You'll be close to some of the best golf and attractions found all throughout the Myrtle Beach area. If you're looking for a newer home in a great location, Indigo Fields may be the right community for you.