Island Green
Island Green offers a great location with easy access to plenty of shopping, dining, and entertainment options. It's found in a quiet section of Myrtle Beach and it's a gated community with a golf course running throughout.
The community is located in the St. James school zone and found just minutes from Garden City Beach, Murrells Inlet, and Surfside Beach. It's also just minutes from the top beaches and attractions in Myrtle Beach.
Real Estate in Island Green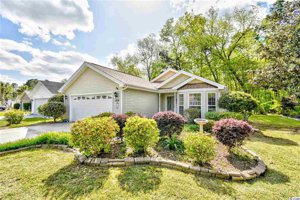 Most homes found throughout the Island Green community are two, three, or four bedroom homes with less than 2,000 heated square feet of living space. The homes range in age from about 10 to 20 years with some newer and some older throughout the community.
Homes in Island Green come in contemporary, modern and ranch styles with about 500 total homes throughout the community. In addition to the single-family homes, Island Grove is also home to several condos with one bedroom and one bathroom. The condos are rather inexpensive and provide a great choice for those looking for a smaller living space.
Island Green is an HOA community with a required HOA fee. However, the HOA fee is lower than many other area communities.
Things to do in Island Green
Island Green offers a location close to many of the best things to do throughout Myrtle Beach. It's found just minutes from Surfside Beach, Murrells Inlet, and Garden City Beach providing residents with plenty of options for shopping, dining, and entertainment.
Major big box stores are found just minutes away, along with chain restaurants. The Beach, The Pier, and The Waterway are all within minutes and there are plenty of golfing options found nearby, including the course right in Island Green. In addition, residents have easy access to shopping and a water park.
The location makes it possible for residents to commute for work and for play. Many of the best Myrtle Beach attractions are within 15 minutes of Island Green and offer plenty of things to do for residents to enjoy.
Living in Island Green
There are plenty of great reasons to choose Island Green as your next home. Whether you're relocating to Myrtle Beach or you're just ready to go from renting to owning, Island Green has plenty of housing options to offer. It's a great location with plenty of access to the best of Myrtle Beach and other surrounding communities.